The Department of Education has conducted its second Virtual In-Service Training for Teachers from August 30 to September 03, 2021. These In-service trainings are reminders for teachers that our learning never really stops. Hence, it is important that teachers attend these in-service trainings with openness for us to acknowledge that there are still things we are yet to know about. In this time of pandemic, we, the teachers, are still blessed that we are able to attend virtual training on education that would be of aid to us as we face again another year of not having face to face instruction. 
In the second version of the Virtual In-Service Training for teachers, this training focused on capacitating the teachers to use different online learning modalities, including DepEd Learning Management System, DepEd Commons, DepEd TV, and DepEd Radio. DepEd said that the sessions can help educators maximize and handle the property and technology tools in delivering online education and ensure that the platforms will be child-friendly. This VINSET 2.0 has taught teachers how to utilize technology tools and applications to maximize our skills to create more interesting lessons for students.
Thus, we salute all teachers who are willing to learn more for them to be equipped and ready to still rise to the challenges they face in this time of pandemic. We also give our sincerest gratitude to the Department of Education for always making sure that the quality education of our Filipino students will still continue despite the different challenges of life.
Here is the overview of the topics given to the teachers for the VINSET 2.0:
Retooling of Teachers Capacity in using ICT and Emerging Technologies

Speaker: Mark Anthony C. Sy
Advantages of Using Open Educational Resources (OERs)

Speakers: Sherwin O. Lomeda and Sara Jane Sarino
Proper Etiquette in Sending E-mail and Understanding Guidelines for Copyright

Speaker: Ariel A. Delos Santos
The Wisdom Behind Grammarly

Speaker: Maria May N. Sevilla
The Creative Utilization of Canva for Students Performance Task

Speakers: Aprellene B. Marquez and Representative from Canva Philippines
Techniques and Learning Delivery Style in Conducting Effective Virtual Classes

Speaker: Anna Marlaine Litonjua
Radio-based Instruction – Reaching Far-flung Areas

Speaker: Jann Wilbur Gale
Child-friendly Approaches in Empowering Para-teachers Guidelines for Copyright

Speaker: Angelika D. Jabines
TV Based Instruction-Effective Utilization and Plotting to Weekly  Lesson Delivery

Speaker: Salvador E. Manansala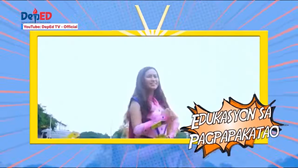 Creative Teaching and Teaching Creativity for Distance/Remote Learning

Speaker: Alvin A. Sy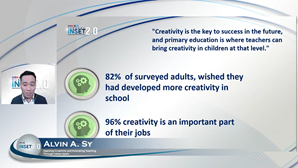 Troubleshooting Equipment and Digital Device Awareness

Speaker: Arthur M. Aquino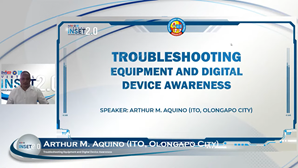 Reorientation for School Property Custodian and IT Coordinators Regarding the DepEd Computerization Program Policies and Guidelines

Speakers:

Technology Infrastructure Division and Asset Management Division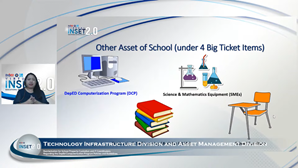 DAY 3 (SEPTEMBER 1, 2021)
Interactive PowerPoint Plugins & Microsoft Windows Plugin for 21

st

Century Teachers

Speakers: Ma. Remalyne Cruz and Glenn Hurano
Microsoft Office 365 for Productivity – Mail Merge

Speaker: Marco Paolo Victoriano
Professional Development Program with Microsoft Education

Speakers:

Mark Anthony F. Jamisal and Representatives from Microsoft Philippines
Game-Based Learning Using Minecraft Education Edition

Speakers:

Rubilyn Pastrano, Glenny Laping and Glenah Taguibao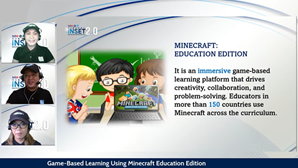 Mobile Apps Development for Teachers

Speaker: Joy G. Salazar
DAY 4 (SEPTEMBER 2, 2021)
Learning Model for Key Stage 4 (Senior High School)

Speaker:

Ivanne Faye Factor
Google Educators Group and Professional Development Program

Speaker:

Maam Santos-De Guzman (Grade School Principal – Reedley International School)
Be Internet Awesome

Speakers:

Via Puyat, Adrian Cruz, and Rowena Reyes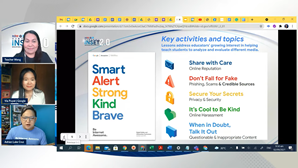 Positive Discipline and Psychological First Aid

Speaker:

John Jefferson Sevilla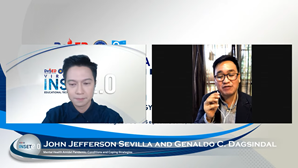 Photo Editing and Digital Banner Design using GIMP for Instructional Video Development

Speaker:

Lorenz Villaflor
Digital Illustrations using Krista for Book Illustrations and for Instructional Video Development

Speaker:

Arvin Key Barles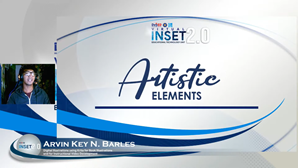 Basic Motion Graphics using Hitfilm Express for Instructional Video Development

Speaker:

Adriyel M. Santiago
DAY 5 (SEPTEMBER 3, 2021)
The Use of DepEd Learning Management System (DLMS)

Speakers:

Mark Anthony F. Papa, Raymond B. Casama, and Mark Anthony C. Sy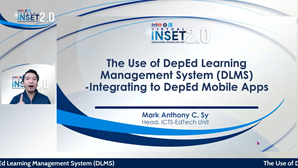 Cyberbullying (Knowing Your Rights)

Speaker:

Felisse Maranne Mandawe – Clinical Psychologist – San Juan Psychological Clinic
Video Editing Applications 101

Speaker:

Neil Arvin Bautista
Music Production Using Noteflight for Instructional Video Development

Speaker:

Diosdado Parungao